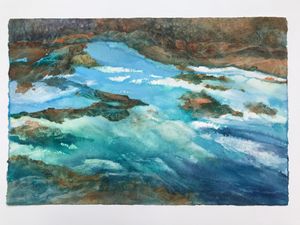 THE COMPOSER
Currents is created through Licity Collins
LICITY COLLINS
Profiled on NPR for her music and spoken word, Currents™ conceiver and composer, Licity Collins, has a passion for seeing things differently. Licity lives her life dedicated to creating experiences that change the way we think about our world and how we live.
As a musician, prose writer, conceptual artist, meditation and yoga instructor, Reiki Master, and trained facilitator, Licity has always had a fascination with immersion, repetition, and duration. She loves the powerful ability of these elements to transform time, communicate directly with our nervous systems, generate fresh thinking, and help us heal.
INTUITIVE PROCESS
"I am a conduit for Currents. A Current cannot really be composed, it can only be received. When a Current shows up, it makes itself very clear. I know a Current as soon as I hear it. I feel its distinctive vibration and intention. It speaks to me and I listen, listen, listen. When I record each Current, I play it over and over, until the exact powerful phrasing, tone, and feel emerges. 'That's the one.' I always know. It is an exhilarating process. This music has a potent mission and I am thrilled that it has chosen me to shepherd it into the world."
LIFETIME OF LISTENING 
A lifelong meditator, journaler and "internal adventurer," Licity has had a relationship with mindfulness since she was introduced to the writings of Thich Nhat Hanh her by her math teacher in her Quaker high school. Decades later, she still strives every day to "eat the tangerine to eat the tangerine" in all she does. 
JOURNEY OF HEALING 
Licity's journey—from emergency hand surgery which forced her to suspend playing guitar twice—to creating Currents, is an inspiring tale in which listeners will feel profound support for their own lives. Licity includes this origin story in each of the Currents Care kits and shares it in her live group sessions.
TRUSTED VISIONARY 
Licity Collins trained at the Leadership Institute near Washington, DC when she was seventeen and has been delivering innovative art-infused transformational experiences for over 30 years. Her work spans genres from performance and visual art, to spoken word, to rock & roll, to classical music, and more. She is featured in several art history books. Holding a dual concentration Bachelor's degree in American Civilization and Public Policy, and a Master's of Fine Art, Licity has worked with colleges, universities, non-profits, camps, and organizations of all shapes and sizes to bring a fresh and creative perspective to critical and personal issues. 
She helped found ground-breaking arts organizations, the Women in Prison Project in Providence, RI, and defunkt theatre and Disjecta Arts in Portland OR. She served as co-director of Camp Anytown RI social justice camp for teenagers for three years, and taught art and theatre at Caldera Arts camp for four years. Her intimate tea-time conversations became an artist-in-residence tradition at the University of Illinois. Passionate about the power of music, Licity currently lives in Ojai, CA where she serves on the advisory board of the BRAVO music education program for the world-renown Ojai Music Festival. 
Licity is featured by the My Life (Stop Breathe Think) meditation app for her use of mindfulness in healing from chronic illness and trauma. She is interviewed on the Grief Out Loud podcast about navigating her mother's death during the release of her first album.  Licity's music and spoken word is featured on NPR's Here & Now.