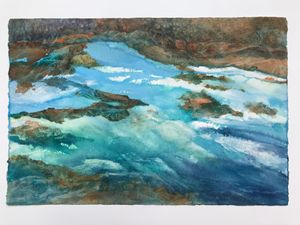 LISTEN
Listen to the music. That's all you have to do. That's it. Let it be easy. You don't have to do anything. Currents is not a practice of effort. Listening is the practice. Currents supports ease by unifying time. Each repeating musical phrase of a Current exists in the past, present, and future—just like life. When you listen, you feel this wholeness of life. This increases peace and ease.
LISTEN & LIVE
Listen to Currents music while You Live Your Life. You can be meditating, sitting, walking, doing movement, or going about your day. You can listen to the music first thing in the morning, throughout the day, or as you wind down at night. You can play a Current for a few minutes or put the music on repeat for as long as you want. Each Current will speak to a specific energy you need. Each day might be different. Choose the Current that feels right for you.
LISTEN & INTENTION 
Do you have an important or difficult conversation coming up? Are there tensions in your life? Is there a wish in your heart? Are you healing from an inner or outer wound? Is there a room in your house that needs clearing? Have a rambunctious dog or fussy baby? You can play a Current to support any part of your life. Listeners report that Currents music brings ease to all of these areas.
LISTEN & HEAL
Currents music can aid healing by unifying the Past, Present, and Future of your physical and emotional states. It sends a message to your nervous system and cells that you trust their process. This gives your body more ease to repair and restore.
LISTEN & NOTICE
What kind of listener are you? Notice how you respond to the music. Do you anticipate the next phrase? Do you linger over the one that just ended? Do you think you know what is coming? Does each phrase feel new? This reflects how you might be listening—to yourself, others, and to life.
LISTEN & CARE KITS 
Currents Care Kits for Individuals and Teams deepen your experience. Each kit gives you fun activity sheets, meditations, recipes, journals, and more. Plus all the Currents music. Choose the care kit for yourself or your team for Ease, Resilience, or Creativity.
THE POSSIBILITIES ARE INFINITE
Experiment with Currents™ music and let your community know what you experience!
THERE IS NO WRONG WAY TO USE THIS MUSIC.
"When I want to meditate in a fresh way, I listen to it." "When I need to clear out a hard conversation, I play it." "When I am tired, it revives me." "My cat sits by the speaker when it's on." "I played it last week and four rambunctious dogs I am caring for calmed right down." "There is something truly special about this music." — Currents Listeners